1. Do you prefer sweet or salty foods?
I love sweets! But, I do love sweet and salty mixed. Like Kettle Corn, dipping my fries in my shake, Chubby Hubby ice cream. That kind of thing :)
2. Name your 3 BEST personality traits!
I am hardworking, dependable, and a loyal friend
3. Name your 3 worst personality traits!
I am an UBER perfectionist. Some might think that is a good thing. It's not. It causes me all kinds of stress sometimes! I have a hard time getting over when someone offends me. It takes me longer than it should to let it go sometimes. I can also be very stubborn at times. Just ask my hubby! Haha!
4. Do you collect anything?
Besides the overflowing craft room supplies? Nope :)
5. What is your favorite season of the year?
Fall. I love the changing colors. The cool air. The smells. It is a gorgeous time of year!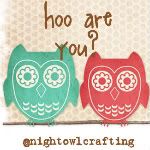 I am also

BLOG HOPPING HERE

today. Click on over and check them out! :)