Hi all! Today I am doing a guest post for Joy over at Momma's Kinda Crafty. She has a fun blog with some super fun ideas :) You should check her out!
Also, to see my latest jewelry creation and a short tutorial, go check out my post over on Joy's blog by
CLICKING HERE.
Would love to know what you think about it :)
Have a GREAT Monday!
PS- I am
BLOG HOPPING HERE
today. Go link up too! The more the merrier! :)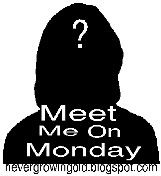 Questions:

1. What do your normally eat for breakfast?

2. What kind of vehicle do you drive?

3. Have you ever met a famous person(s)?
Yep, Norm MacDonald. Watch the clip below to see how :)
4. What is your favorite ice cream flavor?
I am not a HUGE ice cream lover (except when I was pregnant, then I wanted it all the time!) But my favorite is Chubby Hubby Ben & Jerry's!
5. What TV channel do you watch the most?