Hi all! Want to know where I am today???
I am guest posting over at Pam's blog called
Mom's Mutterings
. It is always so much fun to post on another blog. It gives us all the opportunity to check out other GREAT blogs out in blogland!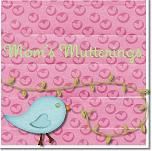 I hope you will pop on over to see my post and to visit Pam's blog. She has some fun stuff going on over there. Thanks Pam for letting me guest host :)
Have a FANTASTIC Thursday!
PS-When I start back to school in a few weeks, I will be looking for some people who would be willing to guest post on my blog. If you would be interested in guest posting, send me an email and let me know, we will see what we can work out. Thanks! loridelee(at)gmail(dot)com.