FUN way to get to know other people and their blogs! Thanks to Night Owl Crafting for hosting :)
Q & A:
1. What are some of your pet peeves?
a dirty house, overflowing laundry, when people take up two parking spaces because they park on an angle, mean people, typos. I am sure I could go on, but I won't! Don't want to sound like a crazy person! HAHA!
2. Do you have a favorite or lucky number?
Oh yes! The number 8. Ever since I was a little kid. Don't know why. It just is!
3. What is one of your family traditions?
We have a family luau celebration the first Saturday in August. All of our family and friends gather at my parents house for a traditional roasted pig and yummy luau foods.
4. Is there anything you are OC about?
My house. Can't stand when it is a mess. Germs. I carry sanitizer with me at ALL times.
5. What is your favorite kind of food?
Mexican food. I love chips & salsa. Guacamole. YUM!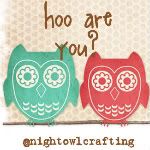 Tuesday Tag Along is FUN too!